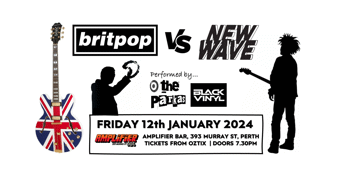 Britpop vs. New Wave!
With The Parkas & Black Vinyl
Amplifier Bar (Perth, WA)
Friday, 12 January 2024 7:30 PM
BRITPOP vs NEW WAVE! - proudly brought to you by THE PARKAS and BLACK VINYL.

It's Britpop vs New Wave, 80's vs 90's with the biggest songs from Oasis, Blur, Stone Roses, The Smiths, The Cure, Arctic Monkeys, The Verve, Spandau Ballet, The Charlatans, Happy Mondays, Duran Duran, Pulp, Kaiser Chiefs, Radiohead, Simple Minds, James, Franz Ferdinand, Flock of Seagulls and many more.

The last show THE PARKAS and BLACK VINYL put on together SOLD OUT so don't miss out on this one.