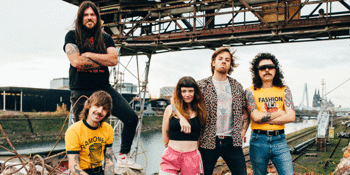 Damaged Music presents
Clowns 'ENDLESS' Album Launch
With Special Guests
Amplifier Bar (Perth, WA)
Saturday, 30 March 2024 7:00 pm
Leaping from high speaker stacks to fearless prolificacy in their music, CLOWNS has always embraced danger and risk-taking as their driving force, leading them to become one of Australia's most renowned punk acts to hit the world stage.
Drawing inspiration from classic punk through to psychedelia, garage, hardcore, pop, world influences and more, CLOWNS prolifically contemporise a unique and modern sound with an overtone of peril. Commanding power-chord-heavy riffs to catchy sing-along choruses, every aspect of the band's music is designed to get crowds erupting. Their upcoming 5th release – ENDLESS – is no exception and promises to be the most ambitious & thrilling work yet, demonstrating further growth and evolution as musicians & songwriters.
ENDLESS will be released on Friday October 20 via the band's own DIY operated label DAMAGED in Australia/New Zealand and through iconic punk label FAT WRECK CHORDS in all other territories. A string of wild Australian tour dates follow, featuring label mates VOIID.
Tickets on sale now.