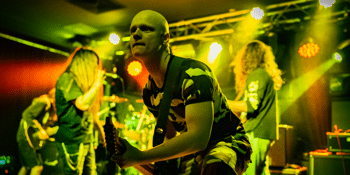 Our Demise 'Insidious' EP Launch Show
With Our Demise, Patient Sixty-Seven, Allocer & Infinite Exile
Amplifier Bar (Perth, WA)
Saturday, 16 December 2023 7:30 PM
Presenting a devastatingly heavy blend of Deathcore and Metallic Hardcore, Our Demise have returned with their brand-new EP 'Insidious', after recently releasing their new single 'Vultures'.

To coincide with its release, they have announced a Perth launch show at Amplifier Bar on December 16th, with some of Perth's top tier heavy acts, being none other than their friends/special guests in Patient Sixty-Seven, Allocer and Infinite Exile.

Our Demise have quickly solidified their place as one of Perth's heaviest up and coming young acts, captivating audiences with their blistering riffs, hard-hitting breakdowns, tight rhythms, breathtaking vocals, and high energy live shows, earning them opportunities to share the stage with acts such as Nicolas Cage Fighter, Xenobiotic, Sedative, Falcifer, Freedom of Fear, Remission, and Paradise in Exile.