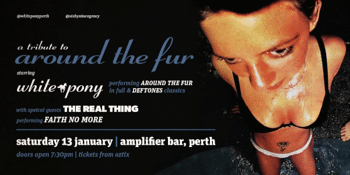 Six By Nine Agency presents
A tribute to "AROUND THE FUR" performed by WHITE PONY
with special guests THE REAL THING
Amplifier Bar (Perth, WA)
Saturday, 13 January 2024 7:30 PM
On 28 October 1997 new metal giants Deftones released their second, and highly anticipated album "AROUND THE FUR", and heavy music was never the same again.
Featuring members of Perth's premier Tool Tribute, "Arizona Bayswater" and prog metal favourites, "Voyager", WHITE PONY performs "AROUND THE FUR" in its entirety, plus a selection of DEFTONES classics on SATURDAY 13 JANUARY at AMPLIFIER BAR in PERTH. Plus special guests THE REAL THING performing FAITH NO MORE. Doors Open 7:30pm

"AROUND THE FUR" propelled the DEFTONES to fame in the alternative metal scene on the strength of radio and MTV favourites "My Own Summer (Shove It)" and "Be Quiet and Drive (Far Away)"
With its heavy guitar-driven sound, infectious hooks, and raw emotion, this album is a primal expression of the band's unique blend of aggression and melody, creating an immersive sonic experience. Chino Moreno's hauntingly intense vocals, Stephen Carpenter's heavy and intricate guitar work, and the powerful rhythmic foundation provided by Chi Cheng on bass and Abe Cunningham on drums all combine to produce a sonic onslaught that's as captivating as it is aggressive.

It's an album that perfectly captures the intensity and vulnerability that Deftones are renowned for, solidifying their place as one of the most influential bands in the alternative metal genre.

"Around The Fur" is metal at its best: brutal, raw and unforgiving, unafraid to bare its soul and display its intelligence. Make space in your CD rack now.
Verdict: 5/5 (www.kerrang.com - 1997)

JOIN THE FACEBOOK EVENT PAGE: CLICK HERE

For all WHITE PONY show dates and info visit
www.facebook.com/whiteponyperth